JOHN BURNESS: "I DON'T THINK IN MY LIFETIME I EVER DREAMED ABOUT HAVING A HORSE THAT WOULD WIN A GRADE 1"
October 16, 2018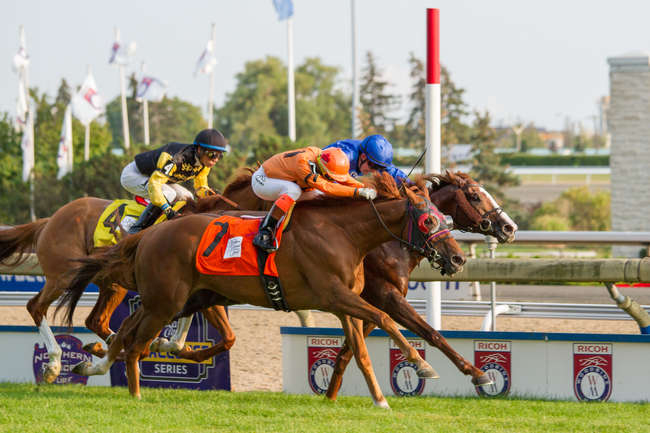 Photoed by John Burness
Veteran Ontario thoroughbred breeder and owner John Burness (Brnjas) said he doesn't think it's possible to "pack more enjoyment into two minutes than you can watching your horse run at the racetrack," especially when that horse is back-to-back Northern Dancer Turf Stakes (Grade 1) winner Johnny Bear.

"I don't think in my lifetime I ever dreamed about having a horse that would win a Grade 1," said Burness, whose Colebrook Farms owns the 7-year-old gelded son of English Channel out of In Return with Bear Stables, Ltd.

Johnny Bear is trained by Burness' daughter, Ashlee Brnjas.

"We persevered with him in the early times… My daughter just kept believing in him and sticking with him… so it's exciting that she believed in the horse and he proved her right… It took him a while to come around, but, with age, he definitely improved."

Almost a year to the day after winning the Northern Dancer Turf Stakes at Woodbine in 2017 over the likes of international horses Hawkbill and Messi, Johnny Bear and jockey Luis Contreras did one better, winning the 2018 race on Sept. 15 in a sparkling time of 2:25.74.

It's that kind of experience that Burness said is unbeatable and the best marketing tool the sport has to attract people to the game. He said you have to bring prospective owners to the track, show them the fun of being there and going down to have your picture taken in the winner's circle.

But in today's busy world full of distractions and busy lives, Burness said the hard part is getting people to the track in the first place.

"I think it's very tough nowadays, because you've got so many things, the apps on the phones, the Internet, you can watch (racing) at home… people didn't have access to all that (when I started)," Burness said. "If you wanted to watch a horse run you had to go to the track. That was the only way to watch. It brought a lot more people to the races."

Burness has a couple of ideas to attract people to the track and into horse ownership. The first involves hiring ambassadors to talk up Toronto's young professionals.

"We should hire some young guy or girl to go downtown and talk to people (about the joys of horse racing), the professionals, and bring them to Woodbine and show them a day," Burness said. "That's the only way. You're not going to get them any other way… spend time in the restaurants and bars where the guys that are in the stock market go. The business people are down there."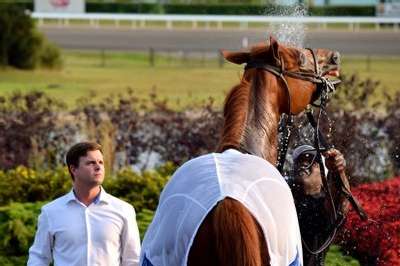 Photoed by John Burness
Burness got his start in the horse racing business some four decades ago.

"A friend of mine worked for me and he had a horse. He owed me some money and said, 'Gee, I can't pay you back, but I'll give you part of the horse.' I started like that and here we are 40 years later or more," Burness said.

"I started out with claiming and that was my first go-around with (trainer) Frank Passero and it went from there."

Burness said he was instantly attracted to the people he encountered at the racetrack.

"There were great characters at the track and it was a lot more fun… One thing for sure – we didn't make a lot of money, but we certainly thought we were having a lot of fun," Burness said.
Nearly 30 years ago, Burness founded Colebrook Farms on a little farm north of Toronto on Lake Simcoe.

"We started doing a little bit of breeding. I had my own horses and broodmares," he said.

A little over 15 years ago, he moved his operation to Uxbridge, ON.

Today, Colebrook is some 300 acres and is home to nine stallions — Ami's Holiday, Bear's Kid, Java's War, Leonnatus Anteas, Nonios, Not Bourbon, Passion For Action, Perfect Timber and Where's The Ring — and between 45-50 broodmares owned by Burness.

Johnny Bear's success has certainly been uplifting for the Colebrook clan, but Burness said it's been a struggle for many Ontario breeders since the lucrative Slots At Racetracks Program (SARP) ended in 2013. He said the industry needs the smaller operations to thrive.

"Unfortunately, we're in the position that we need those people that have three, four or five broodmares," he said. "That's important to our industry because we don't have people like myself anymore, people that have 45, 50 broodmares. We need to support the local, small breeders by all means."

Though he said he has his frustrations with an industry that has shrunk in the post-SARP era, Burness said his enthusiasm is still strong both "for the love of the animal" and "the excitement of winning a race."
"I certainly haven't given up. I'm at the barn first thing in the morning before I go to my business. I'm hands-on and I do the normal chores that are left for me to do. Certainly not as many as I used to do, but I still get involved," Burness said.

After all, John Burness said all horses — and not just the stars such as Johnny Bear — are good for his soul.

"I wouldn't have it any other way and I've been like that for 40 years," he said

Photo by Mr. Will Wong.
Read the original article here.
See Other Highlights